Our Brotherhood
Nuestra Hermandad

The Advocation of Our Lady of Rocio is not well known in the American Continent outside the Spanish Immigrant Community. Yet the cultural and religious traditions associated with this wonderful advocation to the Mother of Our Lord Jesus Christ are in many ways weaved into the reality of the Spanish Conquest of The Americas, and the cultural exchange that took place and perhaps continues to take place from Spain to the Americas and to some extend from the South to the North of The American Continent.

Spanish traditions are embedded into the heart of it's ex-colonies and territories, including The United States. It has always amazed me to see how many places in these great adopted homeland of ours have Spanish names. Everywhere you go, from Ohio, to the Southern States, and as far North as Alaska, you will find small reminders that the Spaniards were here. Although the conquistadores are long gone, many of the traditions that we may now identified as "Mexican" or Latino can trace their origin to Spain.

Although the history of conquest is not something we may wish to glorified in this day an age, we can not deny that we are all a product of these great human migration. Aside from naming many of the places we call home today, the Spaniards left us a great cultural heritage including many of the Mission Churches that served as cultural centers in their golden days. As you travel from San Francisco to Carmel, then further south to Monterrey, Santa Barbara, and San Diego, or east to Tucson's Saint Xavier del Bac, you can't help but notice some of the rich cultural heritage and perhaps bitter-sweet history these places hold. You can almost hear the ancient whispered prayers of all those who one day passed through these churches and stopped to pray and perhaps hoped for a better tomorrow.

Out of the past are born traditions, and we must make a conscious effort not to let the foot-steps of our ancestors be forgotten. With time, traditions are revived, re-invented, and adopted to new surroundings in the hopes of keeping them alive for generations to come. Whether its "Cinco de Mayo", the celebrations of Our Lady of Guadalupe, Christmas, Quinceañeras, a baptism, birthday, wedding or even a funeral, all these personal mile stones are an expression of our inner self and of the ways we were taught to deal with our most intimate, yet public emotions.

It is therefore of no surprise that the Spanish speaking communities in California and in the ibero-american community throughout all of The Americas have taken upon themselves to preserve the beautiful traditions of El Rocio. Not only as a mere cultural tradition, but as expression of their Christian Faith.
The modern celebrations of El Rocio in California were started 1992 by La Peña Andaluza of California, under the direction of Charo Monge and it's members at large. It takes place once a year in the area of San Diego, CA. The celebration consists of a solemn Mass followed by a gathering of the community for some singing and dancing in honor of Our Lady of Rocio. People dress in Andalusian costumes and dance Fandangos and Sevillanas. The festivities high-point is the singing of the traditional Salve (Hail Mary) to Our Lady of Rocio.
It is the hope of the member of The Peña Andaluza and this new Brotherhood of Our Lady of Rocio to propagate the devotion of Our Lady of Rocio amongst all in the Catholic Community of the Americas and perhaps one day establish a "Camino del Rocio" in California along what was once the Camino Real.




Join Our Brotherhood
Unase a Nuestra Hermandad


To Join our Brotherhood and receive a prayer card of Our Lady of Rocio, please email us your name, street address, to

elrocio@elrocio.net

.

Basic membership is free, sustaining members pay $25.00 per year, and $50.00 for members with a medal of our brotherhood. Dues are used for the maintenance of this web-site, organize events, and future charity projects to be agreed upon by Dues Paying Members.

Unase a Nuestra Hermandada

Para unirse a Nuestra Hermanadad, favor de enviarnos un "email" con su nombre, domicilio, teléfono a

elrocio@elrocio.net

. Le enviaremos una estampa de La Virgen y lo mantendremos al tanto de Nuestros eventos. Membrecia es completamenta gratis.

Membrecia de apoyo cuesta $25.00 al año y recibira un certificado de membrecia.

Para la membrecia de Hermano, $50.00/año. El monto de su membrecia se utiliza para cubrir costos de la hermandad y la bolsa de caridad.

Pope John Paul II
at El Rocio 1993

From the Speech given by H.H. John Paul II at El Rocio on June 14th, 1993

.....That through Mary you open your hearts wide for Christ Our Lord!

Take through all the roads affection and love of the Pope to your families, countrymen, and friends. Before I bless you all, let us all together praise Mary:

Hail Mary
Hail that White Dove
Hail to The Mother of God
May all the world be a pilgrim to El Rocío


SS Juan Pablo II
en El Rocio 1993
Del discurso del Santo Padre Juan Pablo II en El Rocío - 14 de junio de 1993
...¡Que por María sepáis abrir de par en par vuestro corazón a Cristo, el Señor!.
Llevad por todos los caminos el cariño y el amor del Papa a vuestros familiares, paisanos y amigos, y antes de bendeciros, alabemos juntos a María:

¡VIVA LA VIRGEN DEL ROCIO!
¡VIVA ESA BLANCA PALOMA!
¡QUE VIVA LA MADRE DE DIOS!
¡QUE TODO EL MUNDO SEA ROCIERO!


Our Lady of Rocio
Nuestra Imagen del Rocío


The Image of our Lady of Rocío of The Ameircas was a gift from Nubia Balladares de Suarez to her son Roger Xavier. This image was comissioned from Carlos Hernandez, a well known sculptor, from Leon, Nicaragua in December, 2003. The image measures 25 inches from head to feet and 38 inches with platform and crowns. The Head Crown on Our Lady's head was made in Lima, Peru and the Moon, Crown of Stars, "Rafaga", and dress were made by Roger himself.


The image resides at the Balladares' personal residence, but makes frequent visits to churches in the area.

The image was Blessed on Ash Wednesday 2004 by H.E. Cardinal Roger Mahoney at the Cathedral of Our Lady of The Angels in Los Angeles, CA and was the object of an interview by a Spanish-speaking television station present at the Cathedral.

Nuestra Imagen del Rocío

La imagen de Nuestra Señora del Rocío de Las Américas fue un regalo de Nubia Balladares de Suarez para su hijo Róger Xavier en diciembre 2003 . The imagen es obra del escultor Carlos Hernandez de León, Nicaragua. La imagen mide 25 pulgadas y 38 con sobre corona y pedestal. La corona es fue traida de Lima, Perú, y el vestido, sobre corona, media luna, y rafaga son obras de Roger Xavier Navas-Balladares. La imagen de Nuestra Señora del Rocío de Las Américas permanece en la residencia de la familia Balladares y hace visitas a las parroquias del area. El día del Rocío la imagen normalmente visita la iglesia de San Victor.

Nuestra Señora del Rocío de Las Américas fue bendecida la Catedral de Nstra. Sra. de Los Angeles (LA CA), por S.E. Cardenal Róger Mahoney el 25 de febrero de 2004 (Miercoles de Cenizas 2004), y fue objeto de una entrevista de los medios de television hispanos presentes.

Nuestra Señora del Rocío de Las Américas, fue coronada por Monseñor J.T. Murphy el 31 de mayo del 2005 en la Iglesia de San Victor en la Ciudad de West Hollywood, California.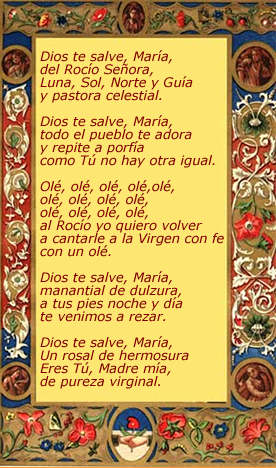 For a free prayer card email us your name and address -
Para recibir una estampa de oraciones envienos un email con su nombre y domicilio